In ancient times, the historic center of Naples was surrounded by walls that defined the perimeter and served as a defensive circuit of the city and its inhabitants. Despite the years and the destruction that have occurred, just turn the corner and the city of Naples is transformed into an open-air archaeological site.
Greek walls and dominations
The Neapolitan city tells us its story everywhere: whether in the square, in the metro or in an old carpenter's workshop, the Greek, Roman, Aragonese and other walls, testify to the dominance that have alternated in the conquest of this territory. There are many sites that can be visited free of charge, precisely because part of these walls is still there where it was built, such as the Greek Walls visible in Piazza Vincenzo Bellini, in the garden next to the monument
The discovery of the Greek walls in Piazza Bellini
The Greek walls of Piazza Bellini were discovered by chance during excavations carried out in 1954. In the then Neapolis, these fortifications were preceded by natural moats, making the city famous for its impregnability.This short stretch visible from Piazza Bellini consists of two curtains of blocks of tuff that was extracted from a large quarry accidentally discovered in Poggioreale, under the Cemetery of Weeping, and was then transported to the center of the city along the current Via Nuova Poggioreale and Via Casanova. Piazza Bellini, in addition to being a place where history and culture converge, is also one of the meeting points for the Neapolitan nightlife, it is easy to find the crowded square in the evening and at night.
It is indeed close to the city's most important points of interest such as the National Archaeological Museum of Naples, the San Severo Chapel and the Veiled Christ, the Pietrasanta, and the many churches and streets of the historic center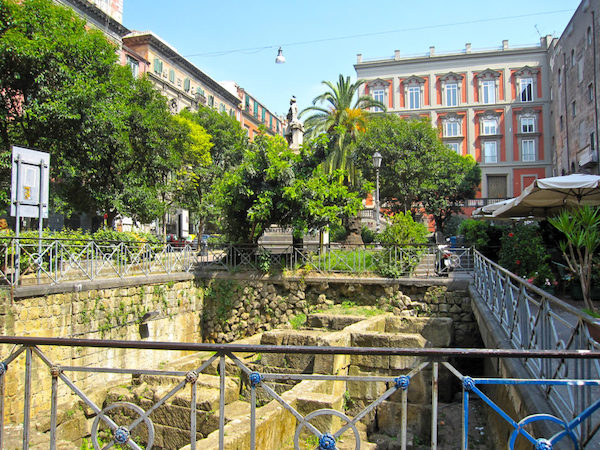 Look for a tour in Naples?
Condividi / Share